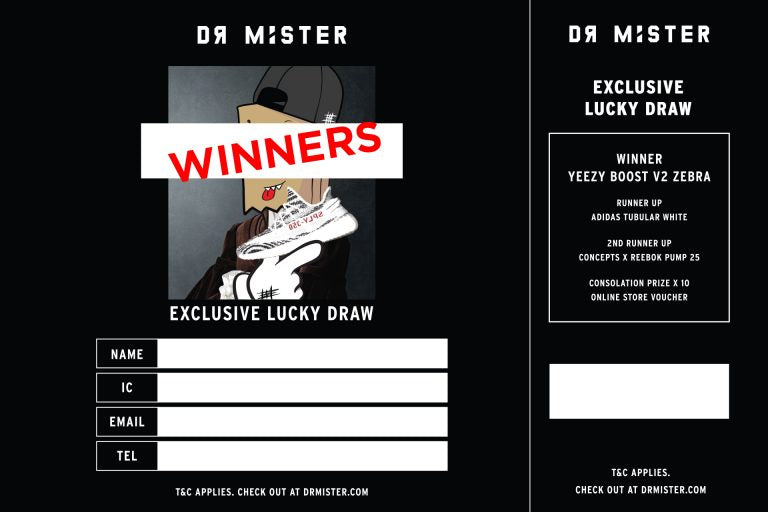 Dr Mister Exclusive Lucky Draw Winners!!!
The Winners are out for the
Exclusive Lucky Draw
we had at Sneakerlah! Many doubted us when we told the world that we want to give out prizes that sum up to a total of RM5000, with Yeezy Boost V2 as our grand price! We believe legit brand give legit gifts, and we do really love our customers! Kindly check out the very raw lucky draw live video here! Congratulation to all our winners! and i do hope that they will like it and together we will bring Dr Mister to a new height !!! Cheers!
Scroll below for the lucky draw tickets that have won the prizes.
GRAND PRIZE – YEEZY BOOST V2 ZEBRA
Congratulation to Amanda Lim! Did this make your Monday? 0123 what a lucky number =D
RUNNER UP- ADIDAS TUBULAR RUNNER WHITE
Congratulation to Ian Lim. Seems like 'Lim' is a lucky surname!
2ND RUNNER UP- CONCEPTS X REEBOK PUMP 25
Congratulation to Christina. What a way to end your monday.(If you see this kindly contact us at FB. We can't reach you by your phone number)
CONSOLATION PRIZE – 30% OFF ONLINE STORE VOUCHER
30% is actually a lot if you realise =D Below are the 10 winners for the consolation prize. Come on it's not that bad, It's Dr Mister =P