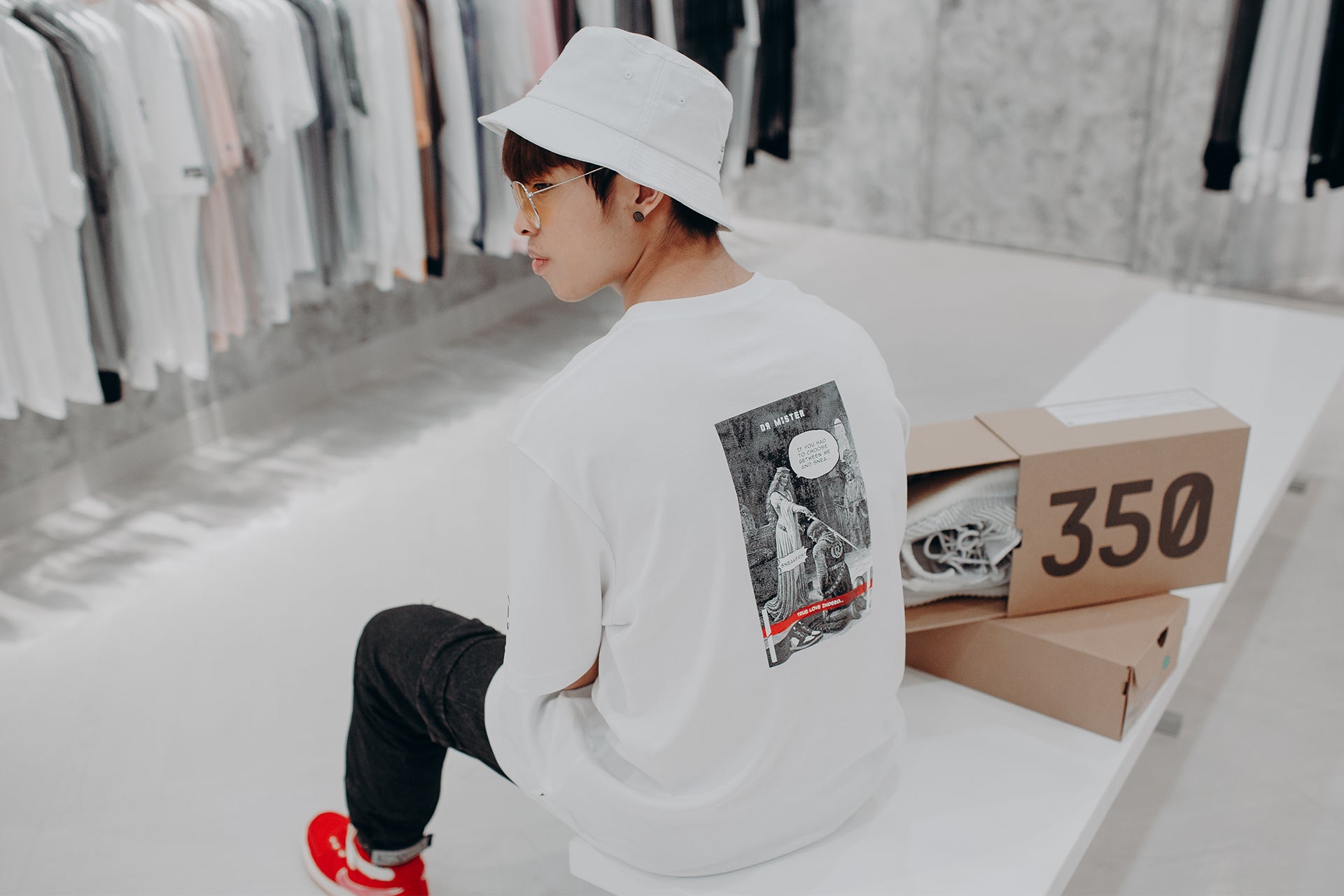 J2- "VISUALIZED CUSTOM EXCLUSIVE" SNEAKER OR ME T-SHIRT
Lookbook Location Sponsor: Baller Vibes 
I am sure some of you sneaker lovers missed the "Visualized Custom Exclusive" Collection. This time, the graphic depicts a situation when your loved one asked you to choose between them or sneaker. As a sneakerhead, what would be your choice?

Inspired from comic style, the back of the shirt is printed with a graphic of a woman questioning a man kneeling down — "if you had to choose between me or Snea..", and the man firmly shouted "Sneaker!" with a red striped phrase "True love indeed" to sum up the picture. Just can't stop laughing here. In front of the shirt is showing a comic text box "Insert Coin to Continue" to relive the Game Over scene from arcade games. And it's for you to figure out what that means.

VCE collection is designed in a way to engage in psychological visualisation to sneaker related theme.
When we first designed the VCE collection three months ago, we wouldn't know that the concept will actually turned into a viral meme. The objective of this VCE collection is to bring fun to people, and I am sure we have achieved this! Since it is quite fun, we will just share the artwork processed by us with ready text box for you guys to create your own. Free your imagination, unleash your endless creativity, make the painting alive again. There you go, Cheers.
这款vce系列完成在三个月前左右,没想到这设计概念竟然在meme爆红了。
这款衣服的设计宗旨就是要把娱乐欢乐带给大家,相信我们已做到了这点。
我们将分享我们的设计图让大家自行填写旁白,发挥天马行空的创意。
充满想象力的设计可以再次唤醒沉默的画作,让此设计充满了更多的娱乐性!
这里下载图片: