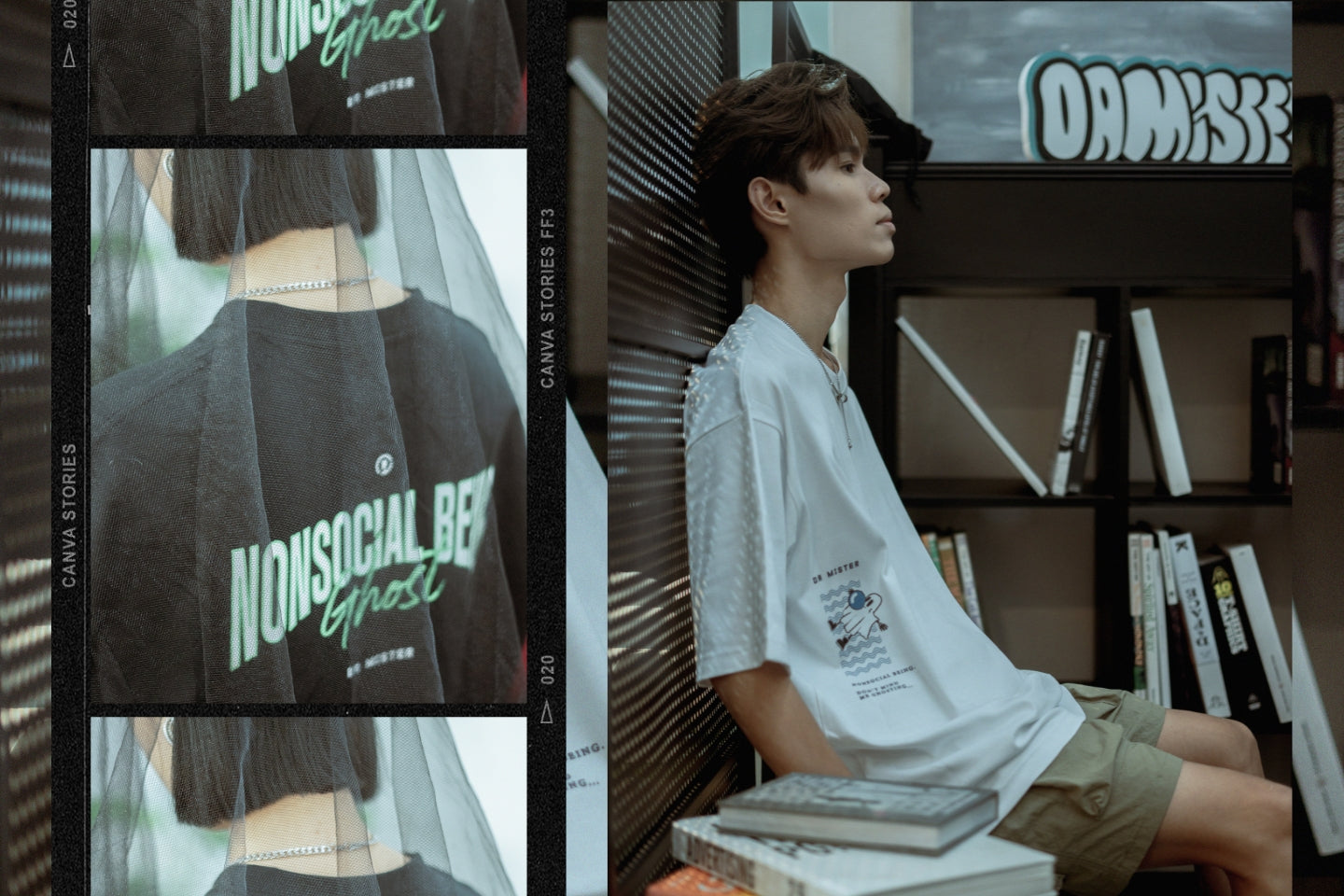 23 - "Nonsocial Being" Collection
Are you one of those peeps who like to kick it at home but sometimes feel too awkward to be out and about?
No shame in that, fellow Thinkers. As human beings, we are expected to thrive in social situations. However, after too much socializing, we sometimes get a "social hangover" and crave some alone time to recharge our batteries.
That's where Dr Mister's latest "Nonsocial Being" collection comes in - it's made just for you! This collection is perfect for all you thinkers who know what it's like to feel like a ghost, just trying to hide away from the world. And the best part? You can do it in style! The "Nonsocial Being" collection offers two distinct types of clothing: the Oversized Jersey and the Oversized Tee. Each item brings a unique vibe and style, allowing you to choose the perfect option for your fashion preferences.
The newly launched "Nonsocial Being" Float Oversized Tee features a floating sheet ghost, printed with the collection dialogue "Don't mind me ghosting," so everyone will know what's up. And with the college-inspired "Nonsocial Being" type overlapped with the scripted word "Ghost" on the back, you'll be repping your crew wherever you go. Plus, this heavy blend is still breathable with our signature interlock cotton fabric, so you'll be comfy no matter what.
Featuring light gray line stripes and a retro overlapped v-neck, the "Nonsocial Being" Ghosting Oversized Jersey is sure to make a statement. The collection's iconic "Sheet Ghost" is embroidered on top of a college-inspired "Nonsocial Being" Type overlapped with the scripted "Ghost" type alongside Dr Mister's branding logo. You'll find a minimal logo with Dr Mister's tagline on the back. The front and back are adorned with the "i" brand motif, adding an extra touch of style. Made with heavy-blended polyester, this jersey is built to last.
All the "Nonsocial Being" collection is available in two dope colors - black (home) or white (away). Whether you're going for a low-key or high-contrast look, we got you covered.
So, don't wait - get yourself a "Nonsocial Being" Float Oversized Tee today and let the world know you're a proud member of the "Nonsocial Being" squad! Click here now to get a 10% discount on your first purchase. Start saving while you shop with us.